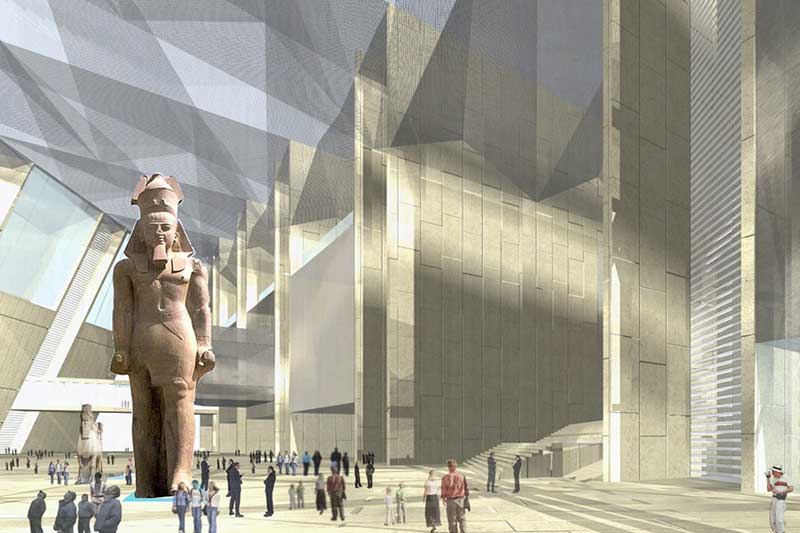 Egyptian Prime Minister Mostafa Madbouly on Tuesday met for the first time with the supreme committee formed to devise plans for the inauguration ceremony of the Grand Egyptian Museum (GEM).
Madbouly said that the committee is working to choose the most suitable day for the opening, to organize the event over the next several days, and to consult specialized international companies to organize a global opening ceremony that features the presence of presidents and kings from various countries of the world.
The Prime Minister pointed out that the political leadership attaches great importance to speed in opening the GEM. "The opening of the Grand Museum will be seen by billions across the world, so we began to move now to prepare for the opening ceremony and present a clear road map for the opening," he said.
Egyptian Antiquities Minister Khaled al-Anany said that the opening of the GEM will be the largest celebration ever organized by Egypt. A major international company specialized in organizing such grand celebrations will be contracted for this purpose in accordance with the schedule.
At the end of the meeting, the Prime Minister gave instructions to the committee members to coordinate between the ministries and concerned authorities at the highest level so that the opening of the GEM will impressively reflect the civilization and history of ancient Egypt.
He pointed out that this celebration is a great opportunity for marketing Egypt and promoting tourism.
The views and opinions expressed in this article are those of the author(s) and do not necessarily reflect the official policy or position of Muslim World Today.
Do you like this post?
---