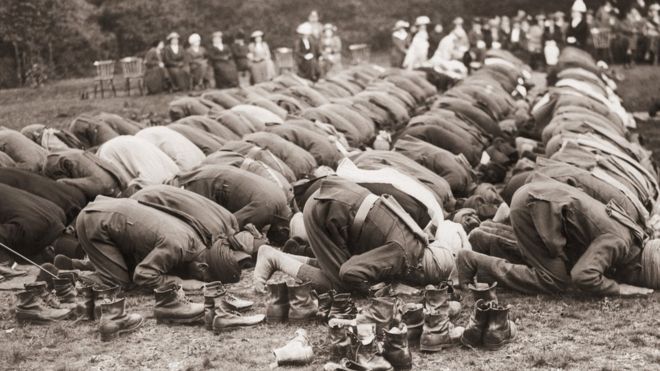 A hundred years since the end of World War One, historians think recognising the contribution of Muslims can help tackle contemporary issues such as Islamophobia.
"Muslim soldiers have been forgotten about over time," Hayyan Bhabha, from the Muslim Experience, says.
"The core far-right narrative is that Muslims have never done anything for us.
"Well, actually, with facts that are over 100 years old, we can say Muslims fought and died for the history and security of Europe."
It is estimated that 1.5 million Indian troops fought to defend Britain. Of those, 400,000 were Muslim soldiers.
The Muslim Experience is working to highlight the global contribution of Muslim soldiers to World War One and says raising awareness could silence anti-Muslim rhetoric by far-right groups in Britain today.
Mr Bhabha says his team is now opening up documents and discovering new information about their role in the War.
"Accessing archives from 19 countries, we have discovered that more than four million Muslims either fought or served as labourers during the War, from around the world," he says.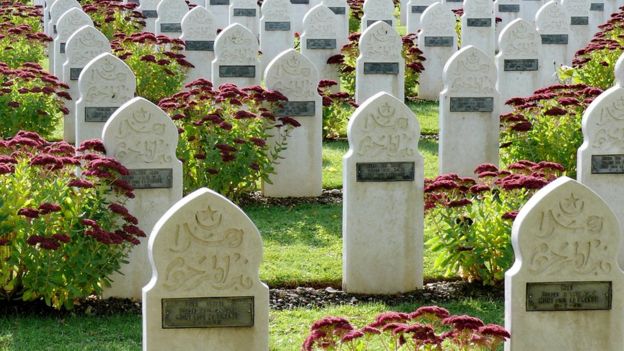 One of those was Sepoy Khudadad Khan, an Indian soldier who fought alongside British troops.
He was the sole survivor of a team assigned to defend vital ports in France and Belgium from German forces.
According to accounts, Khan managed to hold off the enemy advance long enough for British reinforcements to arrive.
On 31 October 1914, Khan, of the 129th Duke of Connaught's Own Baluchis Regiment, became the first South Asian to receive the Victoria Cross, Britain's highest military honour.
'Feel more British'
Groups such as the Muslim Experience want stories of soldiers to be heard.
They also want more British Muslims to find out if they have a personal connection to World War One.
Just as a local GP in Nottingham, Dr Irfan Malik, did after he had a chance conversation with a patient that led him to discover two of his great-grandfathers had fought for Britain.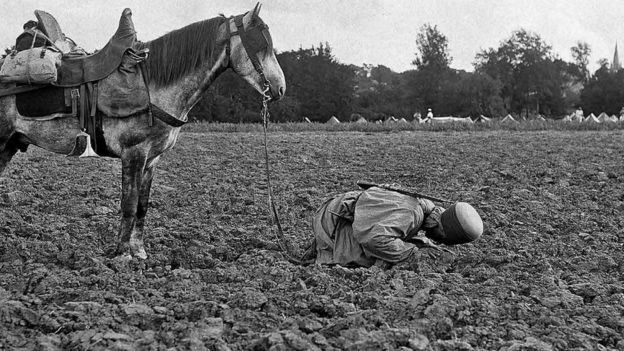 Dr Malik's great-grandparents, Capt Ghulam Mohammad and Subedar Mohammad Khan, were two of 460 soldiers from a tiny village called Dulmial, in modern-day Pakistan, sent to fight in the 1914-18 conflict.
"One of my patients is a researcher of Commonwealth contribution to World War One and I told him about a village in modern-day Pakistan where I'm from that has a cannon commemorating the Great War," he says.
"From that point four years ago, my journey began and I found out my two great-grandparents fought for Britain.
"I'm very fortunate to have images from 100 years ago. It means a huge amount to me. It's made me feel more British as we have this shared history in common and I believe it helps community cohesion."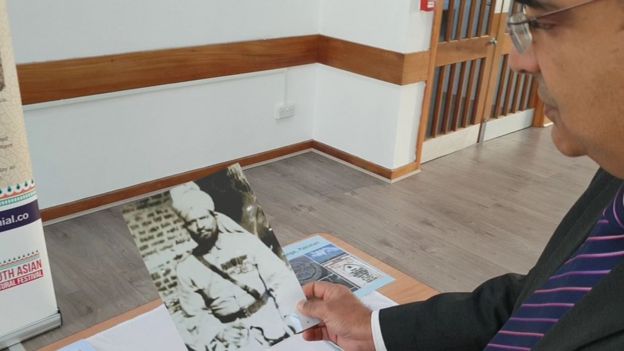 But how connected do British Muslims feel to the War and how aware is the community itself of its links to British military history?
Mr Bhabha thinks some young Muslims, in particular, are not engaged with British military history
The views and opinions expressed in this article are those of the author(s) and do not necessarily reflect the official policy or position of Muslim World Today.
Do you like this post?
---