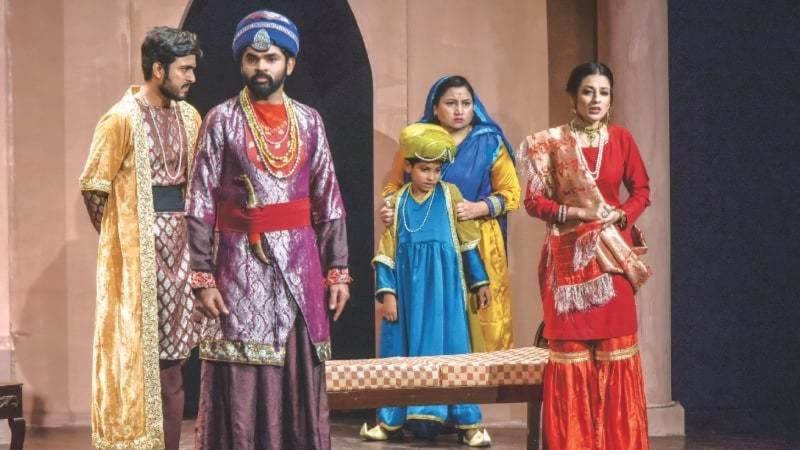 One of the recurring themes in William Shakespeare's plays is that of jealousy caused by unfounded misgivings or doubts. Othello is a cogent example.
In The Winter's Tale, the situation is a bit different and the treatment of the subject quirkier. Agha Hashr Kashmiri's Urdu adaptation of The Winter's Tale, titled Mureed-i-Shak, is thought to be the first play that Hashr wrote for a (proper) theatrical company at the end of the 19th century. It was well received at the time.
The National Academy of Performing Arts' (Napa) International Theatre Festival 2019 began on Tuesday evening with the academy's third-year students' version of Mureed-i-Shak. Directed by Zia Mohyeddin, let's put this out at the outset: the effort pretty much deserved to be the opening act for the event which will conclude on March 31.
The play revolves around a king, Sikandar Jaa (Naveed Kamal), who mistrusts his wife, Husn Ara (Fajar Sheikh), and harbours the suspicion that she has slept with his friend Humayun (Samhan Ghazi), the ruler of another country. Sikandar and Husn Ara have a son, Khursheed (Saim). Sikandar is not willing to give any margin to Husn Ara to clarify her position vis-à-vis Humayun, so much so that he puts her in jail, where she gives birth to a daughter. Sikandar is so consumed with shak that he thinks Humayun is the baby girl's biological father. As a result he abandons the newborn. The baby is picked and brought up by a shepherd, Prabhu Singh (Abdul Hafeez). She grows up to become a beautiful young woman, Gulnar (Fajar in another role), who falls in love with Feroz (Rahil Siddiqi), the son of Humayun.
The basic premise of the play sets it up nicely for a climax in which wrongs are righted and doubts are cast away!
The point that needs to be emphasised is that Mureed-i-Shak staged on Tuesday was a truncated version of the original play. Given that it was performed by third-year students (who did a fine job, by the way) the shortened script came as a boon. Anyone who's seen Hashr's dramas would know that they're marked by highfalutin, rhyming Urdu, which could be disconcerting for contemporary audiences, especially the younger lot. But the director did not let that happen. He imparted the right kind of pace to the text which never lost momentum until the last line was delivered and gesture made. He also kept the inner conflict(s) of the play neatly fleshed out.
The views and opinions expressed in this article are those of the author(s) and do not necessarily reflect the official policy or position of Muslim World Today.
Do you like this post?
---