by Faiza Ilyas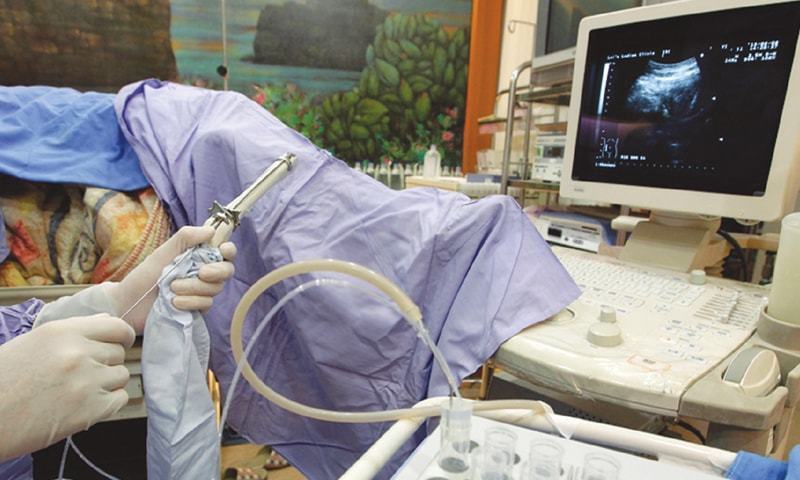 An employee demonstrates the preparation to take eggs with a needle in this file photo.—Reuters
KARACHI: Despite a good demand for surrogacy in the country, experts do not offer this option as a solution for infertility and patients seeking surrogacy prefer to have the procedure done at a foreign facility — if they can afford the costs involved.
This was the consensus of some 'in vitro fertilisation' (IVF) experts whose opinion Dawn sought on Wednesday in the backdrop of a recent judgement of the Federal Shariat Court that legitimised childbirth through the IVF process, but declared the practice of surrogacy as un-Islamic.
The IVF process is used as an infertility treatment in which the woman's eggs are removed from the body and fertilised by the sperm in a laboratory before being transferred to the same woman's — or, in the case of surrogacy, to another woman's — uterus.
"We don't offer it (surrogacy procedure), but there is a demand for it, at times pressure, from childless couples, especially non-Muslims, when they see that there is no other option for them to have a child of their own," said Dr Shaheen Zafar, an IVF expert and director of the Sindh Institute of Reproductive Medicine.
Dr Zafar, who led the team that made the delivery in 1997 of Sindh's first "test-tube baby", a colloquial term for babies conceived as a result of IVF, was of the opinion there were few IVF experts in the country and she had never heard of any doctor offering surrogacy procedure. "If someone is doing it secretly, I don't know," she said.
Dr Sadia Pal, associated with Concept Fertility Centre in Clifton, endorsed her opinion, adding that she, too, had never heard of a doctor offering surrogacy procedure to patients. "Doctors do advise patients, but in this age where a lot of information is available on the internet, people themselves search for the best option and get the procedure done if they can afford the cost," she replied when asked whether patients seeking surrogacy were advised by doctors about the country and the expert they should go to for the procedure.
For the rest of the article please click here.
The views and opinions expressed in this article are those of the author(s) and do not necessarily reflect the official policy or position of Muslim World Today.
Do you like this post?
---