An event held in Cirebon, West Java, on Aug. 25 and 26, sought to explore Islam in Indonesia from the point of view of justice and equality.
"Tetirah Cirebon: Exploring Feminism in Islam" was the first event in the Xpedisi Feminis series. The town of Cirebon was chosen as it is considered the entry point of Islam centuries ago and the starting place for the religion's spread across Indonesia.
Twenty-three people took part in the maiden event, including NGO activists, journalists and housewives. The program is supported by online platform Indonesia Feminis as well as by the Cherbon Feminist community, online publication magdalene.co and online traveling platform iwashere.id.
The program started with a visit to the Fahmina Islamic Study Institute (ISIF), where a discussion about feminism in Islam was held with Mariana Amiruddin from the National Commission on Violence Against Women, and the Fahmina Institute's KH Marzuki Wahid and KH Faqihuddin Abdul Kodir as speakers.
Mariana said feminism was a tool for the betterment of women's lives. She told stories of female leaders that are often hidden in history, such as Tribhuwana Tunggadewi of Majapahit, Queen Kalinyamat of Japara and Nyi Ratu Mas Gandasari from Aceh. She reckoned that it was high time for history to be written from a feminist point of view.
Read also: 'Feminism' is US dictionary 'Word of the Year'
Meanwhile, KH Marzuki Wahid stated his belief that Islam was just and believed in gender equality. The claim that the Prophet Muhammad was a feminist had been proven in the Arabian Peninsula. With the spread of Islam, women were seen as humans and equal to men, Marzuki said.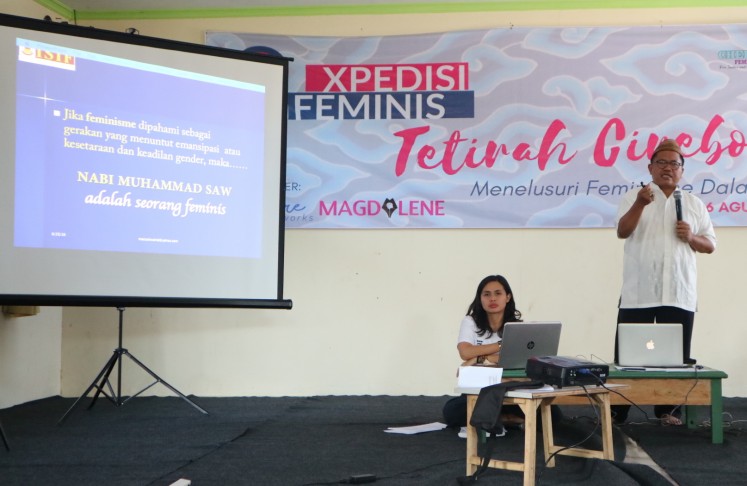 A discussion of feminism in Islam with KH Marzuki Wahid. (Xpedisi Feminis/-)
He said a reinterpretation of the Quran was needed, adhering to justice, freedom, equality, brotherhood, wisdom and the benefit of the people.
The views and opinions expressed in this article are those of the author(s) and do not necessarily reflect the official policy or position of Muslim World Today.
Do you like this post?
---